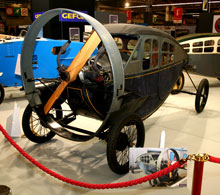 …it's Hélica! Between 1913 and 1925, Frenchman Marcel Leyat built some 30 propeller-driven automobiles. He called them "Hélica," from the French for propeller, but they also acquired the nickname "plane without wings." Through this weekend, six examples are on display at Rétromobile, Europe's premier old car event, at Paris Expo at the Porte de Versailles.
Rétromobile always has a flair for the outrageous, and Hélica is certainly this year's major example. In addition to displays from automobile manufacturers, collector car dealers and automobilia vendors, the show hosts a large auction by the Paris house Artcurial. Among the expected Delages and Delahayes, we find also some outrageous and unexpected "kustoms," the Egyptian, based on a 1958 Oldsmobile, and Dreamsicle, which began life as a 1956 Lincoln. Both cars were built by John D'Agostino of California.
Rétromobile runs through Sunday, February 10th, but the auction is tomorrrow. If you want Dreamsicle or the Egyptian you'll have to hurry on down. We'll have some other Rétromobile treats posted tomorrow. See you then!