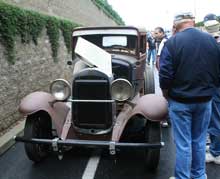 In October, all roads lead to Hershey, and on the roads are lots of old cars. That's because Hershey, Pennsylvania, hosts the world's largest old car event, the Eastern Regional Fall Meet of the Antique Automobile Club of America. This was my 27th consecutive year.
Hardly had I arrived than a saw an old acquaintance, a 1974 Ford Maverick Grabber that was a no sale last year. The owner had dropped his price by $2,000, which must have worked because it was gone before the show closed. Other treasures included a 1917 Overland engine for $600, toys, radiator shells and a flathead Ford V8 – demonstrated regularly. Throughout the grounds customers were taking home parts and memorabilia.
Every year a bunch of barn-fresh cars come out, like this 1939 Ford convertible sedan, a 1923 Lincoln converted to service car, and an unobtrusive 1930 Whippet Six sedan. Vehicles that caught my fancy in the Car Corral included a rare 1951 Frazer Vagabond, a 1958-9 Chevy milk truck, and a 1941 Ford Special coupe, a bottom-of-the-line model with minimal chrome, a seat that flips up to access the inside storage area and a single taillight. The nastiest vehicle I saw was a 1937 Ford pickup, in great danger of disintegrating on site.
A 1947 Ford cab-over-engine truck, like the one we featured some years ago, sold early in the week. There was also a nice 1959 Dodge Sweptside pickup and a 1947 Canadian-built Mercury panel truck. We've seen 1950s Packard station wagons before and Hershey had an interesting one, obviously converted from a sedan, its roofline and bustle giving it away. The storied Tucker convertible was on show and drawing crowds. I find it attractive, but I'm skeptical about its stories. The innovative 1955 Flajole Forerunner was mesmerizing many, particularly this mystery man with a camera. I'd never before seen a Hanover but Hershey had one, a 1922 model being sold by Hyman Classic Cars. There were two (count 'em) DeLoreans and a single Bricklin. Faced with a choice I'd take the Bricklin, as there were parts available in the Red Field.
One could get a close look at the Futurliner belonging to the National Auto and Truck Museum of the United States. Of great interest were the dual front wheels which have differentials in the hubs. They also run on genuine Parade of Progress tires. Most people, though, were watching the show, not the wheels.
On Saturday morning, all visitors head for the car show where there's always something new to see. A nicely-restored 1948 International KB-2 pickup was carrying a beautiful Simplicity garden tractor, just like mine. There was a Crosley ladder truck, a Reo Gold Comet school bus (when was the last time you saw one?) and a 1926 GMC motor home.
The cut-off date for AACA recognition is now 1984, so we see such things as a first generation Bronco, a Suzuki LJ50 and a Jeep J4000 pickup with 360 cubic inch V8 (Dan Strohl, eat your heart out!). A Maryland collector showed a matched pair of 1960 Valiants, one with red interior and the other in blue.
My favorite part of the show is the Historic Preservation of Original Features class. Drawing crowds was a Willys Silver Knight roadster (you can look it up), and a Springfield Rolls Phantom I with Brewster Suburban body was nearby. You could also see a Day-Elder truck and an unrestored 1914 Haynes. In the main show were a 1932 Detroit Electric with balloon tires on wire wheels and a companion 1976 Citicar electric. Around the corner was the first Browniekar I'd ever seen.
The only auction in town these days is the RM sale held at the Hershey Lodge. One of the stars of the sale was the unrestored 1909 Stanley E2 runabout that took part in the 2006 Amelia Island Concours d'Elegance. Prepped by specialist Mark Smith, it steamed across the dais to be knocked down for a high bid of $160,000, twice the high estimate.
After a brief respite at headquarters of the Society of Automotive Historians, it was time to go since nearly all vendors had left. Dennis, Chris and Billy helped break down the tent and I loaded my remaining wares for the trip home. It had been a good Hershey, marred only by high winds on Wednesday and some overnight showers. I'm already looking forward to year 28.