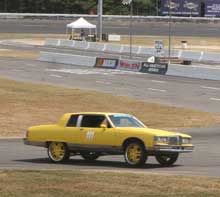 Time was when any town worth its salt had a dirt track race course. Aspiring young drivers, especially those who would never become Ralph dePalma or Russ Snowberger, could buy a junkyard special, probably a Ford or Chevy coupe, weld in a roll cage and go Saturday night racing, with and against their friends. Jalopy racing, as it was known, died out by the 1960s, leaving the impecunious in the lurch. Now, thanks to Jay Lamm and his co-conspirators, we have a 21st Century equivalent, the 24 Hours of LeMons (looks like "LeMans," pronounced "lemons").
The rules are simple. Any car that costs less than $500, ready to race, is eligible. It's really an endurance race – the car rolling up the most laps in the allotted time wins. There are some other arcane regulations and contradictions, and gerrymandered awards, but basically that's it. It's an open field and you run what you brung. We visited the Boston Tow Party and Overhead-Cam Bake at Stafford Motor Speedway in Connecticut last weekend to check it out.
As you'd expect, all the usual "tuner cars," like Honda Civic, are represented, BMW, and there's a generous helping of Camaros and Firebirds. But others seem like long shots: PT Cruiser, Saab, Fiat 131, Peugeot 405 Mi16,a TR-7 uprated with a 3.9-liter Land Rover V8, and a brace of Alfa Milanos. Seeming totally out of place were an Olds Delta 88 and a funny, jacked-up Pontiac Bonneville coupe.
Teams seem to need themes, so we find Britney Steers, the Saudi Audi, a golfing foursome and a Volvo-based Family Truckster with Chevy Chase on the roof. Themes demand mascots, so we see rude little gnomes, a cuddly platypus< and a plethora of rubber chickens.
After tech inspection is complete, teams report for the driver's meeting, where impresario Jay reads the rules and penalties, and then cars line up to enter the track. Once everyone's circling in friendly fashion, the lights turn green and the race is on.
In addition to our natural curiosity, we were there to watch our son Edward, who's been wrenching for the Cannibal Cafe Racing team, take his first turn behind the wheel. Alas, the car, a '91 Honda CRX, blew a head gasket on its first few laps, before his stint. A furious frenzy of remove and replace followed, while other team members cooked lunch. After a couple of hours, the car was together and running, and Edward put in two hours of some really good driving, faster than most cars on the track. It makes a parent proud.
As Jay admonishes the drivers, "racing is not a contact sport," but sometimes stuff happens. Other times, the cars pass in circles, with no damage beyond lost time. The Bonneville fairly floated its way around the track, its driver taking the high, wide and lonesome line, a useful tactic because a tortoise that runs the entire race may outscore a hare that flamed out early.
There were some heartbreaks, like the Peugeot going out in a cloud of smoke with internal injuries, although a spare engine was quickly rounded up from their support network. Head gaskets were the order of the day, and some cars needed suspension work and others body surgery. Still others opted for heart transplants. Alas, Honda #33 had another acute case of headgasketitis and was out for good, an hour into its third leg.
Saturday was hot, leaving the stands sparsely settled while many sought shade under the bleachers. Some teams, like the 999 Gutlass, brought cheerleaders, who were eager to perform for the cameras. By 5:00 Sunday, as racing drew to a close, it was Alfa #75, running well all weekend, that took home the nickels. Firebird #6 made a class win – complete results will show up soon on the 24 Hours of LeMons website.
Interested? There are nine more LeMons races in 2011. The next one is August 6-7 at Thunderhill Raceway Park in Willows, California. There's still time get a car from your nearest junkyard and enter.
UPDATE: Full results now available.