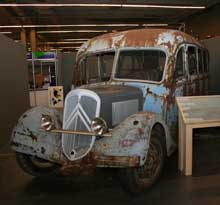 These days everyone is looking for alternatives in the automobile industry, so what could be a more appropriate theme for Rétromobile, France's midwinter old car show, than alternative energy, or énergies nouvelles as the French say. Showcased in the center of the exhibition hall were examples of steam, electric and hybrid vehicles covering more than a century of history.
Steam was one of the earliest forms of power, the earliest example of which was an 1885 DeDion Bouton dog cart. France has had perhaps more use of electric cars than most nations, most notably during World War II, when Peugeot built many VLV electric runabouts. More substantial was the STELA, a battery-powered full-size sedan built in 1940. More recent alternatives included the British-built Sinclair C5 and a novel little electric runabout built by the brothers Jarret. There was even an electric model of Bugatti, the Type 56 of 1911. One of the granddaddies of all electric cars was La Jamais Contente, an electric racer that set the land speed record in 1899. A replica of the car was on exhibit – the real machine is preserved in a museum at Compiègne, not from from Paris.
Another wartime alternative was gazogen, the generation of flammable gas from charcoal or manure, to burn in place of scarce gasoline in internal combustion engines. A Peugeot 402 equipped for gazogen demonstrated how this works, with a digester mounted on the rear and a huge "gas tank" on the roof. Biofuels are nothing new, nor are hybrids. The 1947 Gonnet used a motorcycle engine to generate electricity for a rear-mounted motor.
Rétromobile is anchored by vehicle manufacturers, both Peugeot and Citroën having a large stake. Both of them host clubs dedicated to various models of their marques. >BMW, on a lesser scale, was celebrating 50 years of the Mini. Other clubs, like the Corvette Club France have their own stands. The American Car Club de France was raffling a 1956 DeSoto Diplomat, a badge-engineered Plymouth.
Joining the manufacturers and clubs are a host of dealers offering all manner of old cars, like a brace of Mercedes, both with Saoutchik roadster bodies. Others specialize, as Jeep Village, offering this Hotchkiss-built Jeep, and Mustang Passion, whose specialty is obvious at first glance. Others have unrestored vehicles, like this Citroën bus whose resuscitation is an ambitious task indeed.
Around the periphery one can buy brass lamps, steering wheels, model cars and all sorts of automobilia, or talk to advertising specialsists like Joris Bergsma of PreWarCar.com.
Headlining the first weekend was a Bonhams auction. Among interesting lots was Gabriel Voisin's own Biscooter, but the heavy money went for the 1913 Bugatti "Black Bess" (2.2 million Euros or $2.86 million) and an newly discovered Type 57 Atlante formerly belonging to the Earl Howe. It was the star of the sale at 3.1 million Euros ($4 million).
Rétromobile runs through Sunday, February 15th at Paris Expo at Porte de Versailles. On weekends it's hard to see the cars for the people, so tomorrow or Friday may be your best bet.