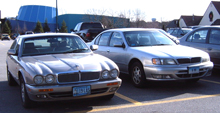 As I was finishing my Christmas shopping a fortnight ago, I came back to the parking lot and was greeted by these two silver cars. The one on the right is my everyday Infiniti I30, on the left a Jaguar XJ6, successor to the Series 3 Jag XJ6 I admitted lusting after in a previous CarPort. While I considered my old Infiniti J30 as a Japanese Jag, somewhat equivalent to the S-Type, I had never equated the I30 to an XJ6. Seeing the two cars together made me wonder if they're not closer than conventional wisdom admits. Could I have indulged my craving and satisfied my transportation needs with a single car?
The two cars are of different generations. The XJ, designated XJ40 in Jaguarspeak, was introduced in 1986 to replace the already long-in-the-tooth Series 3. The I30, an overlapping successor to the J30, was derived from the fourth generation Nissan Maxima and launched in 1996. Mine's a '98; the XJ6 seen here is a 1995 model (I had to check the VIN to be sure), made in this form until 1997, after which it was available only with a V8. It carries the XJ40 24-valve evolution of the legendary Jag XK dohc six. The Infiniti has Nissan's new-for-1995 VQ30DE engine, a 24-valve V6 called one of the "ten best" by Wards AutoWorld since its inception. While giving up a full liter of displacement and 55 bhp to its Jaguar rival, the VQ accelerates the I30 from zero to sixty in the same 8.1 seconds, due to its smaller overall size and 930-pound lighter weight. While the VQ is judged among the smoothest of V6 engines, there's nothing like a straight six, an inherently balanced design, for vibrationless running (although under Ford stewardship Jaguar no longer has an inline engine). The Jag is rear-wheel drive, more agile in dry conditions, but I prefer the I30's front-wheel propulsion when winter comes to New England.
The Jag is longer and wider, and presumably roomier inside, but for trunk space the Infiniti beats it by three cubic feet. No doubt British handling is more spirited than a Japanese car tuned for American tastes, but the low-end grunt of the VQ engine allows tall gearing that will achieve 28 mpg in highway driving (I've done it), vice the Jag's rated 23. I give the Jag an edge for aesthetics; the Infiniti's styling, while pleasant, is rather bland.
When I bought my I30, a year ago this month, I didn't even consider an XJ6. I don't regret the decision. A comparable XJ would have cost at least $1,000 more and I'd have had a narrower field of choice. That thousand dollars, less than a 20 percent differential now, takes on a different tone when considered as depreciation. The XJ6, at $54,400, cost nearly twice the price of an I30 when new.
My nearest Infiniti dealer is no closer (50 miles) than the Jaguar store, but it matters not. Mechanical parts are available from the local Nissan dealer, as well as the aftermarket – but in 12,000 miles of driving all I've needed, other than oil changes, is a pair of brake rotors and a knock sensor. J.D. Power rates the Infiniti's long-term dependability as "5 out of 5," while the XJ is only "average." Consumer Reports gave the I30 red circles, while all Jaguars were dealt black spots.
Strictly speaking, the Infiniti comparable to an XJ Jag is the V8-engined Q45, not the I30, but even the new "entry level" X Type Jag is larger and heavier than the I30. So on balance I think I got a Jag wannabe that's more reliable and more economical, at a lower price. I still want a Jag, but I'll wait to find the right Series 3 XJ6 at the right price, strictly as a plaything. Lust, after all, loses its luster if you indulge it every day.