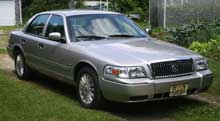 Yesterday was exactly seven months since the last Mercury was made. The thought was brought home to me recently, after my Infiniti I30 was dangerously damaged by a deer. While the insurance deliberations were evolving, I had the use of a rental car. The only vehicle available at my local agent was a spanking new Mercury Grand Marquis.
It struck me immediately how little the model has changed since the current generation was introduced in 1992: broad front seat, a split bench rather than buckets, equally spacious leather couch in the rear, and broad of beam at the back. The trunk verges on huge, but is awkwardly shaped, the giant doughnut spare intruding seriously on space. There are nice touches, like a locking remote trunk opener, cupholders for two in the back and legible instruments on the dashboard, but the whole approach is pretty old school, including the patently fake burled walnut on the doors.
The engine is the 4.6-liter version of Ford's modular sohc V8, with the obligatory plastic vanity cover emblazoned with a legacy version of the Ford V8 logo. With that in mind, one wonders why the modern, ambiguous "waterfall" emblem, rather than a Big M or winged-hat god from yore. The car is equipped with stability control, but I didn't notice any difference whether it was on or off, not that I performed any extreme maneuvers.
The owner's manual comes in a nifty little portfolio, but on opening one is reminded that this car is nothing more than a badge-engineered Ford Crown Vic, the last civilian model of which was made in 2007 (sales since then have been limited to cabs and cops). This car was built in Canada ("2" in the VIN) in December 2010, so it's the Ultimate Edition in more ways than one. It's a brand new, 20-year-old car. Some people are already collecting Grand Marquis – Chris David has an '87 model, from the previous generation, and it rates Early American registration, as Connecticut calls its antique car plates. Next year the '92s will qualify, too. In fact, I think they should all be eligible for antique plates, for, like the long-running Locomobile 48, built from 1913 to 1929, the Grand Marquis was old before it was sold.
Later this month the Lincoln Town Car will also meet its maker. We'll talk about that another time.