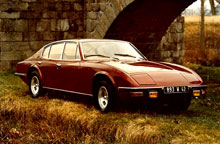 One of the good things about February is Rétromobile, France's premier old car event. Held annually at Paris Expo at the Porte de Versailles, it's been on the go for 37 years. Think Hershey or Beaulieu Autojumble with an accent, and all indoors.
In addition to vendors of parts and cars, Rétromobile also draws manufacturers with their own historic displays.This year will celebrate the 50th anniversary of the MGB, and the 40th of the Honda Civic (who knew…?). Citroën will explore cars as art, Peugeot will highlight the the launch of the new 208 with a tribute to 200-series Peugeots of the past.
Other attractions include the little-known and stunningly beautiful French luxury car Monica, home-built cars like this Piollet, a history of amphibious cars, and the gargantuan 30-ton, nine-cylinder VOS Duvant engine.
Also on the cards are the European debut of the renowned Peter Mullin Collection from California and an auction of fine motor cars by the Paris firm Artcurial.
Rétromobile opens Wednesday, February 1st at 11:00 AM and runs through Sunday the 5th. Check it out.