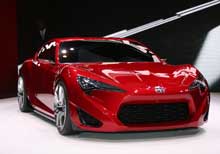 New York's International Automobile Show is the last on the North American circuit and a moveable feast, in that it always opens on Easter weekend. The scribblers of the motoring press get in a couple of days early, so they can write and blog about it before the good citizens form their own opinions.
There are rarely any new concept cars at New York, but always a few new-model introductions. This year heralded a new Chevy Malibu, lauded for exemplary miles per gallon (with the four-cylinder engine, of course), and Chrysler had two new Jeeps, a Mojave edition Wrangler and an SRT8 Grand Cherokee, its 6.4-liter Hemi making it America's fastest SUV. Ford gave its Taurus a nose job and touted its "active grille shutters," which make the car more aerodynamic when running cool, and a new SHO model that's mostly a trim package with a Bentelyesque grille.
Most of the roll-outs were imports, Hyundai's new Accent, five new Honda Civics, and a Subaru Impreza. Seen before were VW's new New Beetle and the zero-petroleum Nissan Leaf (you can try this at home). Porsche claimed primacy in hybrids with the gasoline–electric replica Lohner-Porsche and introduced a hybrid Panamera, while nearby we were treated to the new Land Rover Evoque and an "Autobiography Ultimate" package for the Range Rover (can you say $170,000?). Rolls-Royce and Bentley were together again, if only in proximity, while Saab gave no hint of ongoing difficulties, if one ignored the paucity of new product. Popular commentator Dennis David got to meet Eleanor Thornton and prolific scribe Gregg D. Merksamer was intrigued by the Lohner-Porsche.
Outright concepts were few, one of the more dramatic being the Cadillac with Lambo doors. My favorite, though, was the Scion FRS (for front-engine, rear-wheel drive, sport). Not ready for production, it certainly shows that the son-of-Toyota is contemplating new directions.
The bottom floor is the domain of trucks. In stark contrast to Malibu's numbers were the economy ratings of the F-150 Supercab pickup. The show runs through May 1st. Check it out.