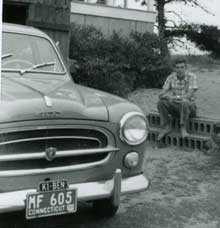 The summer I turned 14, my parents bought a new car. It was 1958, and we were in the second Eisenhower Recession; economy cars were hot. It seemed an opportune time to trade in our 1949 Mercury, which, though it had fewer than 60,000 miles, was anything but economical. The popular Volkswagen was too small and we were not a Microbus family. We looked at the Triumph Ten, but found it almost as cramped as the VW. Peugeot, however, had just hit the American market with their 403 model, still drawing raves in France three years after its introduction. After a few test drives and appropriate deliberations, we bought a Peugeot 403 Grand Luxe Berline (sedan) from Hamzy's Garage, the local dealer. Hamzy's also dealt in two other imports that were becoming popular, Renault and Borgward.
The 403 was mechanically a refinement of the 203 model introduced in 1948, and which continued in production. The engine, a hemi-head inline four, was enlarged from the 203's 1,290 cc to 1,468, but the car retained a four-speed column-shift overdrive gearbox and worm gear rear axle. Suspension was a somewhat unconventional setup, independent in front with a transverse leaf spring and rack-and-pinion steering, and a coil-sprung live axle in the rear with "wishbone" radius arms. Whatever, it handled superbly, in part due to the standard Michelin X radial tires. The body was an entirely new design by Pininfarina. US models could have whitewalls as a no-cost option, but the handling suffered since they were not radials.
There were five different models of 403s, at least in the home market. In addition to the Berline there was a natty little Cabriolet, beloved of Peter Falk in the Columbo series, and an eight-seat Familiale station wagon. The Limousine Commerciale was a utility version of the wagon, and there was also a Camionette Bachée (covered van). Only the Berline, Familiale and a few Cabriolets came to the United States.
Our car, in the soft green shown in the brochures, had the standard features of manual sunroof, reclining seats (which made a lumpy bed) and large trunk with readily accessible spare tire. It took us everywhere, to church (Easter Sunday 1960), on vacation, around town, for more than ten years. By that time it was still running well despite having covered 100,000 miles, but the salt of northeastern winters had taken its toll on the unibody. Eventually they gave it away. You don't often see them restored (think salt on unibody), but every time I do I get nostalgic.