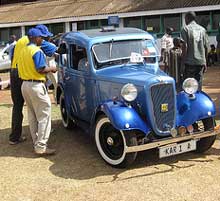 We think of the concours d'elegance as an American institution, despite its French origins. These days, nearly every car show adopts the lofty title, despite the fact that only the most prestigious really qualify. What are we to make, then, of the Africa Concours d'Elegance, held in Kenya? Courtesy of my daughter Harriet, whom you've met before, we can take a tour and decide for ourselves.
This year's Africa Concours took place on September 27th, and Harriet and her husband Don Howard, who live in Nairobi, went to take a look. The rules are interesting. "Any normal roadworthy car,utility vehicle or motorcycle made in 2007 or earlier is eligible to compete." There are 20 classes, of which eight are for motorcycles, and cars are grouped mostly by engine size. Also interesting is that cars are judged on "cleanliness and condition without regard to originality."
Contestants were as diverse as Rolls-Royce and Volkswagen, Alvis and Plymouth. Of particular interest were the last Peugeot 404 ever assembled (they didn't say where), a diamond-plated Mini Moke and a Metropolitan. A Ford Fairlane was seeking a new home, and a British Ford E83 truck displayed an original emblem from the Kenyan dealer. Cleanliness was a transitory commodity, as dust settled as soon as the polishing cloth was put away. And where else but Africa would you see a Peugeot 505 4×4?
Around the periphery were displays from manufacturers, including Daihatsu, Kia, Mahindra (India) and Subaru. The Chinese automaker Chery showed a hint of America's upcoming imports, and even General Motors made a good showing, with the familiar Chevrolet Aveo and upmarket Optra, both Daewoo products. You could buy bull bars for your SUV, a Howling Moon roof tent for camping, or take driving lessons for Kenya's dangerous roads. You could also get your suspension, the Achilles' heel of many a Kenyan car, tested for free. Also on hand were the Kenya Automobile Association and the Vintage and Classic Car Club of Kenya.
Once the judging was complete, the Starehe Boys' School marching band played, and the Ugandan Motorcyclists' Club led the parade as cars passed in review. Overall winner was this 1928 Model A Ford, whose restoration had been finished shortly before the event. The costume prize was taken by this Hillman Minx convertible. The surprise of the afternoon? See if you can spot the Railton.