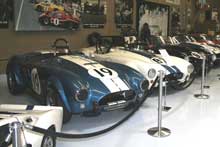 I don't usually give much attention to the so-called supercars, Ferraris, Duesenbergs, Corvettes and the like, for they all have their own very substantial constituencies. I don't even dote on Mustangs, except to appreciate their Falcon origins. As a result I was not wildly excited when invited to visit the Shelby American Collection. By the end of the tour, though, I was glad I went.
Unobtrusively located adjacent to a Boulder, Colorado, shopping mall, the Collection includes some of the most famous and significant examples of Shelby cars, the Cobras, Shelby Mustangs and GT40s. We were fortunate to have as our guides Greg Volan (left), the director, and Frank Barrett, who has just written a book about the detailed histories of the cars.
The tour starts with AC, for it was the AC Ace that was the basis for the original Cobra, powered by a 260 cubic inch smallblock Ford engine. The Collection also has street 289– and 427-engined Cobras, and a Sunbeam Tiger, which also used the Ford engine, thrown in for good measure. The Dragonsnake was a Shelby promotional competition car with movie credentials.
Competition Cobras include CSX 2385, a 289 USRRC car owned and driven by baby food scion Dan Gerber, and CSX 2345, the factory team 289 FIA car with rich competition history (the CSX numbers are their Shelby serials; the faithful know them by number). Something completely different is the Willment Daytona Coupe, CSX 2131, bodied in England. CSX 2155 is a "customer" LeMans replica roadster, campaigned in 1964. This Daytona Coupe, CSX 2299, was built to race against the Ferrari 250 GTO. It won four races and finished second three times during 1964-65, driven by Dan Gurney, Bob Bondurant and Jack Sears, among others.
Among the Shelby Mustangs are SFM 5R002, the first "R" model completed, a factory mule, and SFM 5014R, the GT-350 advanced prototype.
The GT40 story is told with MkI P/103, the first GT40 to win a race (Daytona, 1965), and P/1015, a Mk II 427 car, first overall in the 1965 Daytona 24-hr race. The MkIV car J-7 ran at LeMans in 1967, but did not finish.
Providing counterpoint is the Ferrari 410 Sport Scaglietti Spider raced by Carroll Shelby and Richie Ginther. There's plenty of memorabilia at the Shelby American Collection, including original Holman & Moody body molds for the GT40 MkII racing coupes.
Still, I didn't become a supercar guy. My favorite of the lot was the "Cobra Delivery," a 1963 Ford Falcon sedan delivery that served as Shelby American's delivery and tow vehicle. Originally a 260 V8 like our old Falcon station wagon, it was converted to Cobra status with a full race 289.
The Shelby American Collection is open Saturdays from 10 to 4. If you're in Boulder on a weekend, by all means check it out.