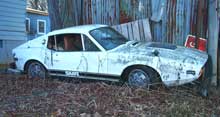 Have you ever fancied your own car company? Word has it that Saab is for sale. Last week, after the Swedish government declined to issue a bailout package, parent company General Motors consigned the Saab unit to the Swedish equivalent of Chapter 11. "[I]t was determined a formal reorganization would be the best way to create a truly independent entity that is ready for investment," said Jan-Åke Jonsson, Saab's managing director. In other words, ready to consume someone else's money, hopefully to the good fortune of the company and the investor/buyer.
This is hardly what GM foresaw when it purchased the Swedish automaker in 1990. That was a heady period when the big global companies thought established boutique brands might enrich their market share. GM took Saab, Ford latched onto Volvo and Jaguar, and BMW and Volkswagen went completely nuts, one-upping each other over other struggling British makes. What a difference two decades make.
For Saab it's all too sad. Born of the aircraft industry after World War II (the name is an acronym for Svenska Aeroplan Aktiebolaget or Swedish Aeroplane Company), Saab's first car, the Model 92, was a front engine, front-wheel drive compact torsion bar independent suspension and a two-cylinder two-stroke powerplant. (There had been 91 aircraft projects.) It was in production from 1947 to 1956. Its successor, the 93, used a three cylinder two-stroke of 750 cc displacement. By 1958, annual production reached nearly 14,000 and in the US the car had achieved cult status. The funny little Swedish cars were favorites on the rally circuit.
The 93 was evolved into the 96 in 1960, and received a new grille for 1966 when a four-stroke engine, a V-4 acquired from Ford of Germany, was introduced. Four-strokes were the way of the future, as in 1967 an all-new Model 99 adopted an inline four, developed in conjunction with Triumph, who used it, turned back to front, in the Dolomite and later in the much-maligned TR7. Initially Saab bought engines from Britain, but in 1972 took production in-house in Sweden. In 1977, Saab started offering turbocharged engines, and was an early proponent of four-valve-per-cylinder designs. A brief flirtation with a Sonett sports model from 1968 to 1974 was not a success. Although the Sonett looked the part, the Datsun/Nissan "Z-cars" were smoother, faster and cheaper and took the majority of segment sales.
The GM acquisition provided deeper pockets to Saab, and resources for new models, derived from cars that GM was building in Germany. The 99 had evolved into the 900, which in turn was replaced by an Opel-based model, and a 9000, which had been jointly developed with Fiat, Lancia and Alfa Romeo, was succeeded by the 9-5 (presumably 90000 would have been unwieldy from a marketing standpoint). Similarly Opel-derived (and related to the L-series Saturn), the 9-5 also offered a wagon.
Although GM retained Saab hallmarks like turbocharging and a floor-mounted ignition switch (latterly moved to the console), the faithful found The General's Saabs too bland and too mainstream – which ironically has driven them out of the mainstream. Recent sales have been about 1,000 a month in the US, down nearly 50 percent from a year ago. You can probably get a good deal from your local dealer, if he's still in business. Can't afford a car company – or even a new car? Buy part of a company. At closing time today, GM stock was $2.55 a share.