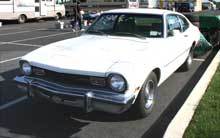 During last fall's presidential campaign we had our choice of mavericks. Senator and presidential candidate John McCain had made his political name as one, but once he chose Governor Sarah Palin as his running mate there were arguments over which one was the greater maverick. In the end it didn't matter, but it could be said that either one was more of a maverick than Ford's car of that name.
Ostensibly a successor to the compact Falcon, the Maverick was introduced in 1969 as a 1970 model. It was, however, smaller and lighter than the Falcon had become, and sold for $400 less. In fact, Ford pitched it as a Volkswagen competitor, which it wasn't really, despite being priced under $2,000. This was the crux of the "maverick" name, it went against the grain, bucked the conventional wisdom.
Offered initially as a fastback coupe, it was plain, yet stylish, with simple adornment. Ford billed it as easy to service, which it was because mechanically it was pure Falcon. In a bit of whimsy consistent with the times, the marketeers went bananas in naming the color choices, but all manufacturers did the same in that psychedelic era.
By 1971 a four-door model appeared, and soon trim options abounded: Exterior Decor Group and Luxury Decor Option to name two. Interiors were upgraded and a dressed-up Grabber model was added midway through the first year (who thought up the name and what did it mean?). The Grabber has been called "muscle car themed," but the theme was primarily visual – there were no performance enhancements save for a floor shifter for the standard three-speed transmission and some white letter Wide Oval tires. Power options were Ford's 170, 200 and 250 cubic inch ohv sixes, and a 302 V8 was later added to the list.
Special edition Mavericks included a Sprint version, said to celebrate the 1972 Olympics, and a Stallion package in 1976, when the Grabber had been dropped. Maverick gained a sibling in the Mercury Comet (the fifth generation to bear that name), introduced in 1971. Comet and Maverick offerings paralleled one another until the end of production in 1977, although a variation was produced in Brazil through 1979.
Comparisons between Maverick and Volkswagen vanished after 1971, when the Pinto, Ford's real VW competitor, was introduced, as did mention of most other Maverick attributes, since the Pinto was smaller, cheaper and more economical to run. So if it was not really a maverick, was it a success? Indeed it was, selling more than 575,000 in the first year, nearly 2,100,000 over its lifetime, not including the Comets. It truly did take the Falcon's place and built a following. Today the Maverick Comet Club International looks after the welfare of surviving cars, including a number of those helping to illustrate this CarPort.
The '74 Maverick that heads this page was being sold at Hershey in 2008. A "secret Grabber" without the graphics package (what else is left?), it had the 302 engine, automatic transmission and air. The price was high, too high, but it gives the lie to the notion that 70s cars will never be collectible.