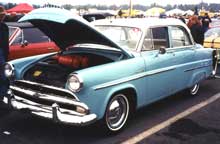 …you're a Jet all the way, from your first cigarette to your last dying day. So wrote Stephen Sondheim and you remember the words because of Leonard Bernstein's immortal score for West Side Story. Inspired by Nash's very successful compact Rambler, Hudson's Jet, new for 1953, was built on a 105-inch wheelbase, 14 inches shorter than the big Hudson Wasp, and weighed less than 2,700 pounds. Powered by a 202-cid version of Hudson's L-head six, it could be ordered with Twin H-Power, the
dual carb setup offered on big Hudsons from 1952, which made it far more peppy than Rambler's 85 hp engine. Starting price of $1,858 put it in Ford-Chevy territory, and about $150 cheaper than Rambler.
But where Rambler had a number of specialty body styles, station wagon, convertible and hardtop, the Jet came only as a two- or four-door sedan. While the Rambler was well-equipped, with radio and heater standard and upscale interiors, the Jet was rather plain. Legend has it that Hudson's Chicago distributor, a dealer with considerable clout, was responsible for its somewhat ungainly proportions. He felt it should look rather like the 1952 Ford, and convinced Hudson brass to raise the roofline.
In any case, the Jet proved a disappointment from the outset. Although Rambler sales had ebbed from 1951's high of nearly 70,000 cars, the small Nash's 1953 tally of 31,778 was nearly 50 percent ahead of Jet's 21,143 units. The Jet scored better than Henry J's 17,400 cars (including 797 decorated as Allstates and sold by Sears Roebuck), but all the American compacts paled by comparison to the second year of the Aero Willys, which moved more than 41,000 cars.
For 1954, Hudson turned on Jet's afterburners. There were now three series, Jet, Super Jet and a new top-of-the-line Jet Liner. The plain Jet was nearly devoid of trim and had a basic interior. A utility sedan with removable rear seat sought to rival Rambler's compact wagon. Super Jets had side trim and more upscale interiors, while the Jet Liner was decorated to match the senior Hudsons, themselves given a Jet-like grille. Jet Liners also featured accented interiors. All Jets had capacious trunks, a centered fuel filler above the bumper, and offered the aforementioned Twin H, Hydra-Matic transmission, tinted glass, Long-Range radio, Weather-Control heater, and a choice of axle ratios.
Few Jets smoked, but all Jets were Jets until their dying day – Hudson didn't pull a Mulally and rename them Commodores or Pacemakers in search of better sales. Unfortunately the dying day came at the end of 1954's sad 14,224-car season. In the end, sales really didn't matter – as all Hudsons became Nash clones the Jet was axed as unnecessary competition to the Rambler. Ironically, the new American Motors Corporation gave Hudson dealers their own version of the Rambler, and it turned out to be the most popular Hudson of 1955, the Cross Country wagon alone nearly outselling all 1954 Jets.
For lots more Hudson Jet info, check out Sarah Young's HudsonJet.net.