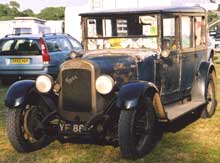 Many of us talk about driving old cars, but few put significant mileage on them. The dean of old car motorists has to be British motoring historian and journalist Mike Worthington-Williams, who until last year drove his old car about 10,000 miles every year.
For Arthur, his 1927 Austin 20, it was a genteel retirement, for Arthur spent nearly a half century – and a million miles – in taxi service at Henley-on-Thames, England. In Mike's care from 1982 to 2006, he was a regular at British motoring events like Beaulieu Autojumble. The start of any journey includes checking the oil and filling up with petrol (that's 99 pence per litre, about $6.50 a gallon).
Packing is challenging, as Arthur's trunk is small. The route is scenic, including stretches of the New Forest, where we share the road with animals, and historic, as in Downton, once home to Downton Engineering, tuners of Minis. While at Beaulieu we refresh at The Musketeer, the best pub in Lymington, and spend our days looking for interesting car parts.
Our return journey takes us through Pennsylvania and over the Batheaston toll bridge, where the bridgetender cheerfully takes our toll. We are soon back in Wales, where signs are bilingual and the language is excessively consonant (actually, "w" is a vowel, so "Bwlch" is pronounced "Boolk.") As we enjoy our al fresco lunch, Arthur has a nap in the shade.
Driving an old car in modern traffic calls for healthy brakes, and reliable power. Arthur's sidevalve four is Model A-sized, and works and sounds like an A, too. At day's end we are home again. Arthur has completed 24 round trips to Beaulieu in as many years, and around 200,000 miles of around-Britain travel. That's what I call really driving an old car.