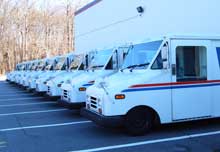 De sooner, de better. Chances are, if you live in the United States, your mail is delivered in one of these Long Life Vehicles. Ours is; if you live in a city yours may be brought to your door by an ambulatory carrier. Since 1986, the United States Postal Service has purchased nearly 100,000 LLVs from Grumman Olson Corporation.
Although the US Post Office, forerunner to today's USPS, has been moving mail with motor vehicles since early in the Twentieth Century, carrier route delivery vehicles are a fairly recent phenomenon. Trucks were initially used to move mail between post offices and to transport carriers and mailbags to their routes. Intercity post was transported by trains. A standardized fleet of Model A Fords was placed in service in 1931; because of Depression austerity and priorities of World War II, many of these Model As remained in service until the 1950s. In the late 1940s, the USPO began to augment them with Chevys, Dodges and Internationals with special bodies by Gerstenslager Company of Wooster, Ohio.
When I was growing up, our mail was delivered by Marty in his own green Ford Ranch Wagon. He seemed to race from mailbox to mailbox, but perhaps this was because he was driving from the middle and steering with his left hand, and did the whole route in first gear. How he managed the clutch and accelerator I don't know.
The first carrier route vehicles, which came in 1956, overcame this problem. They were right-hand drive Jeep Dispatchers, with bright red, white and blue paint jobs supplanting the olive drab of the old Model As and Gerstenslager trucks. The Dispatcher was a two-wheel drive version of the Jeep CJ-3; in 1965, a new style DJ-5 replaced it. The DJ-5 postal Jeeps used Chevrolet four-cylinder engines, the unit developed for the Chevy II, and Powerglide transmissions. After American Motors bought Kaiser's Jeep business in 1970 the Rambler six was adopted, and a new extended grille was added to accommodate it.
The LLV had its roots in an experiment with electric mail trucks during the late 1970s. Grumman Aircraft Engineering Corporation had purchased the J.B. Olson Company, maker of truck bodies, in the 1960s. Grumman Olson, who made a popular Kurbmaster line of van bodies, decided to compete for the USPS contract with a vehicle called Kurbwatt, an all-aluminum unibody design. Some 41 Kurbwatts were placed in service, but the decline in oil prices caused interest in the project to wane. Grumman Olson then refitted the Kurbwatt with a front-drive Volkswagen Rabbit diesel power unit and sold it as the Kubvan. However, diesel demand was also fading by 1983, when the Kubvan was introduced. About 500 were built in 1983 and 1984.
The experience with the Kurbwatt and Kubvan, however, put Grumman Olson in an excellent position when the USPS put its LLV project out to bid. The LLVs have a Grumman Olson aluminum body mounted on a chassis derived from Chevy's S10 pickup, using the "Iron Duke" engine driving the rear wheels through a Hydra-Matic transmission. More recently, the USPS has taken delivery of 21,000 Flexible Fuel Vehicles built by Utilimaster of Wakarusa, Indiana. The FFVs, somewhat larger than the LLVs, are built on right-hand drive, two-wheel drive Ford Explorer chassis, and can burn either gasoline or ethanol.
Many postal Model A Fords remained in service for 25 years. Today's Long Life Vehicles celebrated two decades of service last year, and will remain on their routes for several more. As Poo-Bah sings in The Mikado, Long Life, Long Life to You!