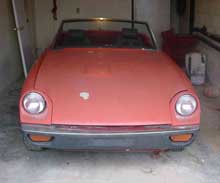 Steve McManus has a new project. You'll probably recognize its rather plain face as that of a Jensen-Healey, the final (and probably least happy) automotive venture of Donald Healey.
Healey's greatest fame came from the very successful Austin-Healey that made his name a household word, much more so than the Nash-Healey and predecessors we featured some months ago. The Austin-Healey and its junior edition, the Austin-Healey Sprite, sold nearly 200,000 units.
Fearing, accurately but somewhat prematurely, the demise of the British sports car in the United States, Austin's parent British Motor Corporation had discontinued the "Big Healeys" after 1967. The Sprite continued on until 1971, the final year as simply "Austin Sprite" since Healey's contract had expired. (Its badge-engineered companion, the MG Midget, lasted until 1979, latterly with a Triumph engine.)
Donald Healey, however, was not finished with automobiles, nor was Kjell Qvale, the San Francisco BMC dealer. Qvale's store had sold more Austin-Healeys than any other in the US. The two men hit it off, and Qvale enabled the deal by buying Jensen Motors, a foundering British manufacturer.
Jensen had grown up building special bodies for Fords, then modifying Ford chassis into their own Jensen S-Type cars and Nash 8-powered H-Types. After the war, they gravitated to GT coupes with Chrysler V8 power, like the CV8 and latterly Interceptor. A big part of Jensen's business, though, consisted of body shells for larger manufacturers, like the Austin A40 Sports, Volvo P1800, and aforementioned Austin-Healey. It seemed a natural partnership.
Alas, the best-laid plans soon began to unravel. The Jensen-Healey had intended to use a Vauxhall Viva drive train. Vauxhall's engine proved anemic, but a new Lotus powerplant looked promising. Thus Colin Chapman's Lotus 907 engine, a 16-valve, two-liter four, made its debut in the Jensen-Healey, even before its first appearance in a Lotus car, the Esprit of 1976. A transmission from Chrysler UK, from the Sunbeam Rapier H120, and Viva suspension completed the concept, packaged in a unitary shell designed, in turn, by Hugo Poole and William Towns. It went on sale in the summer of 1972.
One can charitably say the car was "underdeveloped." Engines, in particular, had teething problems, and I can recall seeing Jensen-Healeys outside repair shops, their front ends sitting high in the air, indicating that the engine was undergoing surgery inside the shop. A Mark 2 version with minor changes came in mid '73, and a five-speed Getrag box was introduced in November 1974. A nifty GT version, reminiscent of Volvo's 1800ES, came in July 1975, but by this time Donald Healey had acrimoniously severed ties with Qvale. That car was sold simply as the "Jensen GT." Total production of Jensen-Healeys and Jensen GTs totalled just under 11,000.
By September 1975, the whole Jensen enterprise was ailing; the last car was built early in 1976. But hope springs eternal, and in the 1980s Ian Orford, a long-time Jensen employee, attempted an Interceptor revival, unsuccessfully. Later, the Jensen name was acquired by investors who attempted a Mustang-powered Jensen S-V8. Only about 30 were built.
Sic transit gloria Jensen, but the cars have a devoted following. Ed Moore of Bellingham Auto Sales in Massachusetts, who supplied the Interceptor pic, has two of them for sale, and the Jensen Healey Preservation Society carries the torch for Donald Healey's last car. Steve McManus might sell his Jensen-Healey when he's had a chance to bring it up to snuff. Contact the CarPort if you lust for it.