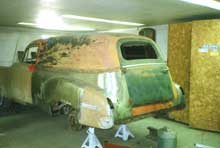 Back in February when we explored the world of sedan delivery automobiles, we made mention of a rumored 1950 Oldsmobile delivery, and found a picture of one on the web.
Fred Summers, our resourceful St. Louis bureau chief, remembered he had once seen another, and he's just sent some photos.
One day he was driving a blue highway through Utah, and came across a building that advertised vehicle storage. Fred being the inquisitive type, he stopped to take a look. Hiding amongst a gaggle of Opels was this 1950 Olds sedan delivery, in process of restoration. Its owner repeated the same story, that it was a prototype built as a feasibility study and was the only one produced, echoing the information we found in the Standard Catalog of American Light Duty Trucks.
Apparently it had been stored by a gentleman from "up east," who fell behind in his rent. The landlord eventually took title, in exchange for the back rent plus some cash, and commenced to restore it. Fred notices that its taillight orifices are of the sort used on the Model 76 Olds, rather than the 88 type, and indeed its front fender is devoid of trim, so it's undoubtedly a six-cylinder car. Interestingly, the steering column seems to have the quadrant for a Hydra-Matic transmission. We can't say for sure whether this is the 1950 Olds sedan delivery, but it's more likely that a utilitarian vehicle would have been built in the entry-level 76 series. Or did they actually build an 88 version, too, as a test of speedy delivery?
Those taillights, by the way, are a marked contrast from Pontiac's
stalk-mounted lamps. The Chevrolet sedan delivery, on the other hand, had only a single taillight, of the rectangular design used on the pickup.
It's an uncanny coincidence that we learn GM is reinventing the sedan delivery – after a fashion. The 2007 Chevy HHR Panel, introduced at the South Florida International Auto Show in Miami Beach the week before last, is a throwback to the panel truck and sedan delivery of half a century ago. Basically an HHR with blind rear quarters and no rear seat, it retains the rear side doors for ease of loading (and simplification of manufacture). In that respect it's not a real sedan delivery and is more like the Dodge Caravan Cargo Van, a cargo modification of a vehicle designed for people moving. Still, it seems like a promising market segment. The Europeans have been using small vans, like the Citroën Berlingo and Ford Transit Connect, for decades.