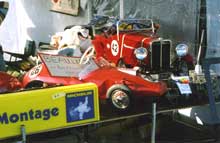 Autojumble, that is. Inspired by Hershey but not a clone of it, Autojumble was conceived and christened by Michael Ware, now the retired director of Britain's National Motor Museum, in 1967. Held on the grounds of the Museum at Beaulieu, Hampshire, Autojumble opens for a weekend each September. This year's event was the fortieth.
Smaller in size than Hershey, Autojumble offers convenient food and drink and amenities like free storage for one's purchases and delivery of them to your car at the end of the day. The majority of Autojumble wares are parts, like engines, lenses, even a radiator for your Fournier cyclecar. There's a section devoted to motorcycles, and plenty of accessories like lighting and picnic accoutrements. There are plentious cars, too, both life size (e.g. Bristol 401, Delage, and Stanley Steamer) and miniature (Chrysler Thunderbolt, Morgan trike, Bugatti and friends, even a few Tonkas).
There's a section called Automart, near the Museum building. Roughly analagous to Hershey's Car Corral, it was offering such delicacies as a rare Healey Sportsmobile, a delectable James Young fabric bodied Sunbeam, a Lanchester 14, and a newly-discovered Scimitar SSI. This caravan (camper) is a one-off, built in 1947 by aeronautical engineer William Leach, and a barn-fresh Morris Minor was a big hit. The Lada Niva was a Russian-built Fiat. If you couldn't afford an SS100 Jaguar, you could build a reasonable replica.
A Bonhams auction has become a regular fixture of the weekend. Auctioneer James Knight coaxed winning bids for such treasures as a Renault Vivasix landaulette (£5,500) and an "Adenauer" Mercedes 300d (£7,000). A 1966 Humber Hawk went to the top estimate (£600) while a somewhat poorer sister car set a new Bonhams record at just £10. A rare Triang Rolls-Royce pedal car (£2,200)had belonged to the Lines family, owners of Triang, and a life-sized flying lady sent its new owner into ecstacy (£1,600). My favorite was a nicely restored 1933 BSA 10 hp saloon, which went for just £5,000. All prices are exclusive of the 15 percent buyer's premium.
In recent times, Beaulieu Autojumble has staged a special event just outside the Autojumble area. This year, custom car impressario Andy Saunders and crew worked flat out through the weekend to create the world's lowest car. Starting from a Fiat 126, by 5 PM Sunday they had chopped, sectioned and channeled it, creating a car just 22 inches high and named, appropriately, Flat Out.
On Saturday, the organizers honored their long-time Autojumble vendors. Elder statesman among them was Cornish Calcott collector Ernie Warmington, first to enter the 1967 event and a vendor every year since 1969. Ernie will be back for the fortieth anniversary Autojumble, to be held 8-9 September 2007. You should go, too.