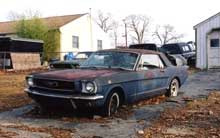 Lee Iacocca denies fathering Ford's Mustang, and, referring to the numerous other men who have claimed paternity, implies that Mustang's mother was a tart. While the the matchmaker responsible for Mustang's conception remains elusive, the car's DNA leaves no doubt about its parents: in horsebreeding terms, it's out of Falcon by Fairlane.
The original Mustang was a parts-bin special, but in the way that a child can be more than the sum of its parents so was the Mustang more than its ancestors. Neither economy car nor intermediate family sedan, the Mustang ran the gamut from a $2368 "secretary's car" to a hairy-chested 271 hp Challenger High-Performance V8. Mustang used not only the Falcon/Fairlane running gear; it utilized the parent cars' architecture, evident from an under-the-hood peek. While slightly different in shape, the shock towers and cross bracing of the Falcon appear prominently in Mustang. In effect, the Mustang is a Falcon extruded for short butt and prominent proboscis. Its name and wild horse logo gave rise to the term "pony car."
Introduced April 17, 1964 at the New York World's Fair, Mustang found instant acceptance and sold 418,000 cars in the first twelvemonth. Mustang interiors were trendy and elegant. An attractive fastback 2+2 coupe arrived in September and on March 2, 1966 the millionth Mustang was minted. Carroll Shelby prepared the hearty GT350 Mustang for racing, having 100 cars for homologation at the beginning of 1965; in '66 Hertz offered a rent-a-racer version (reprised for its 40th anniversary at the 2006 New York Auto Show).
Mustang grew two inches for 1967, and a further four in 1969. Big block engines arrived with a 390 in '67, 427s and 429s in '68. Boss versions, 302 and 429, had sports car racing heritage, Mach 1 was a stiff-suspension 351 V8 car, and a dressed-up Grand&eacute model was available with most power train options. One of the strengths of Mustang was its diversity of models, one, to paraphrase Alfred Sloan, for every purse and proclivity. Big block engines disappeared after 1971, but even in the final model year of first-generation Mustang production, 1973, power choices ran from a 95 hp six to a 156 hp 351 cid V8.
You'll never get a Mustang jockey to admit it, but they're all really long-nosed Falcons.
BONUS QUESTION for the CarPort's Mustang Mavens: The two-millionth Mustang was a 1968 coupe. On what day did it come off the line?