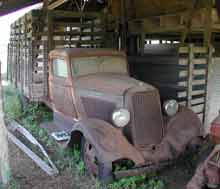 Wayne's World, which comprises most of central Texas, is rife with hibernating cars, and Wayne, who runs it, knows where to find them. This time, with help from long-time area resident Phillip Koch, he's come up with a
whale of a stake truck. Everything is so specialized now that few people not living on farms have even heard of stake trucks. But there's nothing so versatile as a stake truck because you can configure the business end any way you want. Wayne found this 1933 Dodge H30 ton-and-a-half stake truck in Castell, Texas. It's been dormant for forty years, but protected, so it's a solid and unmolested, if well-used, vehicle.
Dodge trucks of the 1933-35 period are interesting because they embraced the styling cues of Dodge passenger cars. Many manufacturers aped cars with their pickups, but not many extended this to big trucks. For Dodge, this was a sea change. Dodge trucks had always been upright and square. For many years, what served as a Dodge truck had been made by the Graham Brothers, with Dodge engines, and sold through Dodge dealers. Walter Chrysler absorbed the Graham Bros. truck business in stages, and the brothers took over the Paige-Detroit Motor Car Company in quest of making Graham-Paiges. Although the trucks were thereafter badged as Dodges, they remained upright through 1932.
The 1933 trucks changed all that, even to the extent of cabs with
suicide doors, perhaps unique in the truck world (tell us if this is not so). In 1936, though, the Fore-Point cab pulled Dodge out of its slouch and made the doors open at the rear again.
This Dodge has been staked for tall loads – I said stake trucks were versatile. Its bed is
weathered but sound, the cab is
littered but sturdy, and the
speedometer shows something south of 36,000 miles. The
engine is the same 201.3 cubic inch six as used in Dodge cars, and it rides on
Budd wheels, whose tires look like they may hold air.
The owner, whose father bought it new, will entertain offers. If you'd like to make one, contact the CarPort, which can channel you through to Wayne's World.