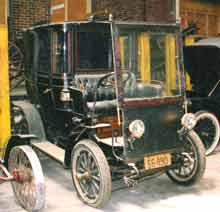 Larz and Isabel Anderson bought their first car, a Winton runabout, in 1899. They never sold it. Over the years they acquired many more cars and kept most of them, too. Each car had not only a name but a motto. This
1905 Electromobile, with British chassis and body by Kellner of Paris, was called "Port Bonheur" (Bringer of Happiness) and carried the motto Ca va sans dire (It goes without saying). In 1927, when their old cars had become noteworthy, the Andersons enjoyed showing them to visitors in the carriage house at their
estate in Brookline, Massachusetts, creating one of the first auto musuems. The core of the Andersons' fleet remains with today's
Larz Anderson Auto Museum, which can rightfully boast "America's oldest car collection."
On July 23rd, the Museum hosted its annual open house for members and guests at its off-site storage facility. At this location are kept the Anderson cars and other Museum collection cars not on display, as well as cars that have been donated to the Museum for sale, in support of ongoing operations. Development manager
Andy Jeffrey provided commentary on many of the cars, including this original
1959 Lancia Aurelia Spyder from the permanent collection. Anderson cars, in addition to the Electromobile, included the
1899 Winton runabout "Pioneer," Ca Ira (It will go), and a
1908 Bailey Electric that was Isabel Anderson's favorite, "Le Bonne Fee" (The Good Fairy), Tourjours prete et fidele (Always ready and faithful). A "self drive" car, the Bailey nonetheless included a
perch at the back for the footman. One of the Andersons' later cars, a
1926 Lincoln, "The Emancipator," motto Son courage fait sa force (Its courage is its strength), carries a rare body by Brookline coachbuilder George W. McNear.
Other notable cars in the Museum collection included a 1959 Rolls-Royce
shooting brake, one of four converted by
Harold Radford of London, and a large Renault from the 1920s. The
circa-1928 Vivastella is a
six-cylinder long chassis car looking for an appropriate body. The late Arthur Fiedler, long time conductor of the
Boston Pops Orchestra, loved fire engines. The Museum now owns a
1937 Ford pumper that was given to Fiedler by his son.
Cars in the Museum's collector car sales program were as varied as a
1920 Fiat 501, an early
Datsun 240Z and Jaguar XJ6 saloons from
1971 and
1986. To inquire about these and other cars for sale, email Andy Jeffrey.
The Larz Anderson Auto Museum is
open every day except Monday and major holidays, 10:00 AM to 5:00 PM. The current exhibit is L'automobile – A Century of Innovation and Style celebrating the French automobile industry. The Museum is located at 15 Newton Street in Brookline.