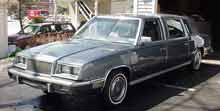 You've heard the stories – the Duesenberg that sold for $300 in 1952, the Rolls-Royce limo that once changed hands for $150. Yes, there was a time when even the automobiles now considered Full Classics™ by the Classic Car Club of America were just old cars – cheap old cars at that. Those days will never come again, you say. Think again. The good old days could be now. Consider this 1985 Chrysler Executive Limousine.
Chrysler Corporation has a long heritage of roomy people movers. From the 1930s there have been long-wheelbase cars in all lines, even, for a time, Plymouth. Jim Benjaminson, stalwart stanchion of the Plymouth Owners Club, owns this rare 1940 P10 Deluxe 7-passenger sedan, one of three known survivors of 1,179 built. At the top of the line were the Crown Imperials, like this 1941 model and this 1956 Forward Look example (thanks to Dave Duricy and The Imperialist). Sometimes they were just "ordinary" Chryslers, like this 1953 New Yorker eight-passenger sedan I snapped at Hershey in 2002. An original car, it was first owned by the Philadelphia Electric Company and used for executive transportation.
The Executive Limo is of a genre known as the "Little Limousines." Based on the plebeian "K cars," the Plymouth Reliant and Dodge Aires that were mainstays of Chrysler's 1980s catalog, the Little Limos were modified by American Specialty Cars, contract constructor to the auto industry. Brainchildren of Chrysler's Special Vehicle Projects executive Bob Marcks, they were introduced as 1983 models. Both an Executive Sedan and an Executive Limousine were built through 1984, after which just the Limo was continued. Power came from a normally-aspirated Mitsubishi-built 2.6 liter four, as used in most Chrysler minivans. For 1986, the final year, the 2.2 liter turbo four from Chrysler was substituted. Richard Nixon had one in his later years. A complete history of the cars can be found at the Imperial Club website.
This 1985 Executive Limo, one of 759 built that year, is owned by Dennis David, an automotive writer and photographer. It features fold-down jump seats and a sumptuous rear sofa. He reports that it belonged to a Connecticut funeral home, but was taken out of service in 1992 and has only recently been retrieved from storage. Dennis, also a sagacious appraiser, feels that the Little Limos comprise some of the most undervalued special-interest cars from the 1980s. Will they become 21st Century Fractional Classics? This car has already met one crtierion. Dennis reports that it once changed hands for $100.