The last Ford flathead was made in 1953: all carfolks know that. But just because everyone knows it doesn't make it true.
Some of you will know that the flathead endured in Canada for another season or two. Others will remember the Vedette, the French Ford (and later a Simca) that was the realization of Ford's postwar "small car" originally intended for the USA. Looking like a miniature '49 Mercury, the Vedette used a version of the "60 hp" V8 that was an optional Ford engine from 1937 to 1940 (and which had first appeared in Europe in 1935). A full-size flathead V8 powered Vedette's sister car, the Vendôme, and also the sleek Facel-bodied Cométe.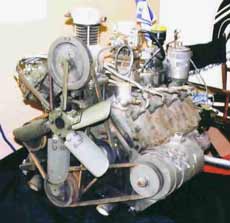 The Vedette's little V8 endured into 1963, and I once thought that was the end of the flathead. But this past February at Rétromobile, France's premier old car event, in Paris, I came across this modern-looking flathead. Displayed on the stand of Club Vedette, it looks very martial, with all sorts of extra equipment and olive drab paint. Signs at the stand seemed to indicate it was manufactured as late as 1972.
Why would anyone manufacture Ford flatheads nearly twenty years after they were dropped in their primary market? One night, while trolling around on eBay I found the answer, in an auction titled "1965 Simca/Marmon French Military Army Truck." The description said it had the "flathead V-8 (L-head) Ford engine -much revered and sought after by hot rod builders." A little googling around on the internet taught me about the SUMB: Simca Unic Marmon Bocquet.
It seems that this Unimog-like creature, workhorse of the French army, was conceived by the Bocquet Company of Villiers-le-Bel, using Marmon-Herrington patents (Marmon-Herrington in the USA built four-wheel-drive Fords, remember?). Simca was given the production contracts, which were carried out at their Unic factories (SA Unic — Simca Industries) beginning in 1964. When Chrysler took over Simca in 1966, Unic was acquired by Fiat. Mike Stallwood of RR Motor Services Ltd. in England, dealer in military vehicles, confirms that SUMBs continued to use the Ford engine through the end of the 1960s. Thereafter, production continued with diesel power until the last SUMB was built around 1996 or 97. Mike says RR Services can still supply flathead engines, both new and reconditioned, from French army surplus.